Beauty & Self
Books & Music
Career
Computers
Education
Family
Food & Wine
Health & Fitness
Hobbies & Crafts
Home & Garden
Money
News & Politics
Relationships
Religion & Spirituality
Sports
Travel & Culture
TV & Movies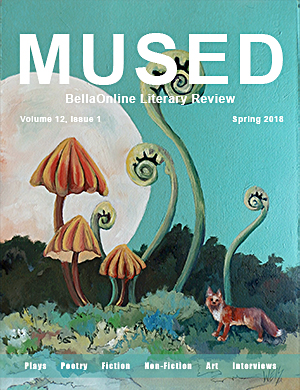 It can seem sometimes as if our world is whirling faster than we can keep up with. It can become overwhelming. Exhausting.

A balm which rejuvenates is to explore the creative efforts of individuals around us. To begin, turn off the noise and clatter of the world at large. Take a deep breath and instead focus on connecting with one fellow human being who presents their jewel of a thought to you. Examine it mindfully. Consider its meaning. Soak in the moment with this one human. Then connect with another. And another.

Enjoy the Mused Spring Equinox 2018 Issue



Downsizing Made Easier
Senior Issues - Pamela Slaughter, Editor

This article offers some simple, straightforward advice on how to make downsizing easier. Learn about the power of a using a checklist. Get ideas of how to avoid crowding out your new home with unneeded items. Learn why those that are downsizing should avoid renting storage units for convenience.




Books for Shawl Knitting
Knitting - Korie Beth Brown, Ph.D., Editor

If you enjoy knitting shawls and wraps, you will want to check out these tomes!




American Artists From the Hudson River School
Art Appreciation - Camille Gizzarelli, Editor

On a recent road trip through the mid-Atlantic states, my curiosity peeked about the artists from the Hudson River School. I'll discuss some of their inspiration and achievements.




How to Cut Depression by 40 Percent
Nutrition - Moss Greene, Editor

Depression can take a serious toll on one's life, but there are ways to deal with depression without resorting to psychiatric or drug treatments. Here are two of the best proven methods to fight depression naturally.




Choosing a Scent for Men
Fragrance - Juliette Samuel, Editor

The intoxicating, sensual and aromatic scent of a man can leave you breathless. Let's face it, who doesn't want to cuddle up to someone that smells ... oh so good! Here's something for the men.




Plant Based Beauty
Ethnic Beauty - Juliette Samuel, Editor

Plant based beauty is your best route to great looking skin. While it's not necessary to become a vegan, it is important to eat a clean diet full of plant based ingredients.


| Google+ |
E D I T O R R E C O M M E N D E D
Paradise in Plain Sight


Paradise in Plain Sight: Lessons from a Zen Garden by Zen Priest Karen Maezen Miller, is both memoir and Zen guide. Maezen Miller shares experiences repairing and tending a historical Japanese garden in her own backyard, guiding the reader towards direct insight. It is beautifully written, honest, and relevant to the modern seeker of any faith.
Jesus of Nazareth


Award winning film produced by Franco Zeffirelli, depicts the life of Jesus Christ from birth to resurrection. Originally made for television in 1977, this set is available on DVD or VHS. Itīs been a few years since I last watched this awesome depiction of Christīs life, but it still remains one of my favorite.
Grave Mercy


Grave Mercy by Robin LaFevers is set in medieval Brittany and features Ismae, a seventeen year-old peasant girl turned assassin who must pose as the mistress of principled knight Duvall in a secretive land of supernatural visions and imminent invasion by the hated French.