Beauty & Self
Books & Music
Career
Computers
Education
Family
Food & Wine
Health & Fitness
Hobbies & Crafts
Home & Garden
Money
News & Politics
Relationships
Religion & Spirituality
Sports
Travel & Culture
TV & Movies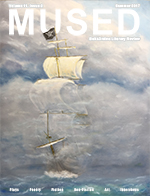 Our time on this Earth is fleeting and precious. We often know that in a vague, intellectual sense, and yet we can find ourselves whittling away those finite minutes without mindful thought. We should celebrate the beauty in a child's smile. The radiant sound of saying "I love you" to that special person. The warm touch of a hand. The delicate scent of a wildflower.

Enjoy the Mused Summer Solstice 2017 Issue



Simple Window Coverings
Sewing - Cheryl Ellex, Editor

Unless the private unfettered view when looking out from a window is one of contemplative serenity - a serene pastoral scene, perhaps rippling waves at the edge of a pristine lake or of majestic snow-covered mountains, most windows benefit from some type of covering or enhancement.




BPA Harms Embryo Quality
Infertility - Hannah Calef, Editor

Keeping BPA out of your diet may help embryos to develop normally




Grilled Chicken, Farfalle and Tomato Salad Recipe
Quick Cooking - Karen Hancock, Editor

Salads are absolutely essential to summer barbecues and pot luck gatherings. This is an easy salad that has minimal ingredients, and takes very little hands-on time. It's yummy, too.




Techniques for Monolid Eye Shape
Cosmetics - Katrina Simmons, Editor

Believe it or not, not all eye shapes were created equal. With influence from social media and magazines it can be difficult finding a look that is flattering. Check out the first article in a series of articles that will explore different techniques for the various eye shapes.




Affirmative Action and Reverse Discrimination
School Reform - Maeve Maddox, Editor

The Trump administration is preparing to redirect resources of the Justice Department's civil rights division toward investigating and suing universities over affirmative action admissions policies deemed to discriminate against white applicants.




Healthier Pop Tarts recipe
Cooking for Kids - Kymberly A. Morgan, Editor

Healthier Pop Tarts are fun to make and healthier than store-bought versions. You can also make different flavors in one batch!


| Google+ |
E D I T O R R E C O M M E N D E D
Italki... Learn a language!


Willing to learn/practice a language? Italki is the place! Find native speakers (almost any language in the world). You will also earn $10 USD in italki credits! Help others and learn another language in exchange or schedule an online class with a native community tutor or a teacher. (Italki image from www.italki.com)
Best Sweepstakes Newsletter Subscription


Best Sweepstakes is an excellent way to keep up on the latest sweeps and contests via online, snail mail and text entry. It´s been around for years and is a trusted newsletter among sweepstakers.
Mastering Essential Math Skills


This exercise book is an excellent resource to practice and review math skills you´ll need to establish a strong foundation and smooth transition into Algebra and other higher math courses. Workbooks are available for 4th – 5th grade and middle school / high school.