Beauty & Self
Books & Music
Career
Computers
Education
Family
Food & Wine
Health & Fitness
Hobbies & Crafts
Home & Garden
Money
News & Politics
Relationships
Religion & Spirituality
Sports
Travel & Culture
TV & Movies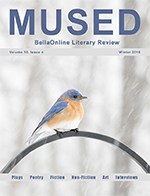 Sometimes it seems as if winter quotes make winter out to be a necessary evil which exists only for us to appreciate the subsequent warmth. Shelley: "If winter comes, can spring be far behind?" Shakespeare: "Now is the winter of our discontent made glorious summer by this sun of York." Hugo: "Laughter is the sun that drives winter from the human face."

But winter is far more than a down against which to compare the subsequent ups. Winter is a powerful, magical time. It is a season of strength. Of looking inward and finding focus. Bob Seger stated, "I write probably 80 percent of my stuff over the winter." Terri Guillemets reminds us, "The color of springtime is in the flowers; the color of winter is in the imagination." The Winter Solstice is a time to embrace the mysterious. The endless possibilities. The sense that we already have, within ourselves, boundless creativity and opportunity. We simply have to still ourselves and listen.

Winter is a powerful season. It gives us that space to look back and learn from our history. To look forward and envision what we wish to become. To be fully mindful of the present and be aware how each day has potential for us to speak out and impact the way our world proceeds. To move us toward peace, fulfillment, and an appreciation of what each of us has to offer.

Happy Winter Solstice.

Enjoy the Mused Winter Solstice 2016 Issue



How to battle a bad attitude
Bible Basics - Sunnie Jackson, Editor

Are there days you feel like everything is coming against you? This article gives basic scriptures to hold on to that will guide you toward demonstrating correct behavior and walkig in God'd love.




The Free Tarot Trap
Tarot - Linda J. Paul, Editor

Falling into the free Tarot reading trap is an amazingly easy thing to do. Even if you choose not to charge for readings, it isn't fun to wind up being stuck in a room doing Tarot readings while the party flows on around you.




Nesting Materials for Birds
Crafts for Kids - Launa Stout, Editor

Spring is an excellent time to set out materials for nest building. Start now to be ready with some ideas. Use them to spark your child's interest in bird-watching, get them involved in a project to help the birds.




African-American Inventors
History - Vance Rowe, Editor

Did you know it was an African-American man who invented the potato chip and the three light traffic signal? Check out my article this week to read about them and other African-American inventors.




Enriching Your Lenten Journey
Catholicism - Melissa Knoblett-Aman, Editor

The Lenten season gives us the opportunity to engage in some way in the sufferings of Christ. And the best way to go about that is not necessarily giving something up. Adding spiritual activities to our journey can enrich our relationship with our Lord and Savior Jesus Christ.




Vibrational Healing
Holistic Health - Teresa Post, Editor

The organs and energetic systems of your body have natural rhythms and vibrations. It makes perfect sense that vibration, sound and harmony would help you heal.


| Google+ |
E D I T O R R E C O M M E N D E D
Lidia´s Italy


A great Italian cooking book, with a diverse selection of Italian recipes that will takes the readers on a journey through some of the most beautiful areas of Italy and their grand culinary traditions.
EatingWell Magazine


EatingWell is the award-winning magazine that focuses on healthier eating habits for the entire family. EatingWell magazine features articles on subjects such as how to prevent weight gain during the holidays, foods that boost metabolism, healthy budget dinners, and dangerous ingredients that you may not realize you´re eating.
Heart Strings - cozy mystery


She's certain she knows who the killer is, but will she be brave enough to confront the murderer for the scoop of a lifetime? This quirky cozy mystery is sure to keep you entertained and guessing to the last page.