Beauty & Self
Books & Music
Career
Computers
Education
Family
Food & Wine
Health & Fitness
Hobbies & Crafts
Home & Garden
Money
News & Politics
Relationships
Religion & Spirituality
Sports
Travel & Culture
TV & Movies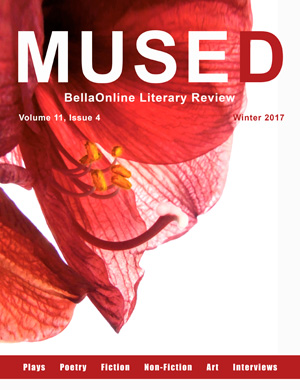 We all travel on this blue-green ball around our very own star each year, sliding a little closer, sliding a bit further away. The balance is critical. Too much closer and we'd roast. Too much further away and we'd freeze.

We should be aware of just how blessed we are that our Earth is "just right" - and do what we can to keep our world healthy. It's the only one we have.

Enjoy the Mused Winter Solstice 2017 Issue



European AstroFest 2018 - Space Missions
Astronomy - Mona Evans, Editor

For two days there was no need for a telescope to view the Universe, though you might have decided to buy one for later on. The Universe came to London in the form of European AstroFest – all under one roof in the Kensington Conference and Events Centre. Here is Part 1 of some highlights.




7 Great Things To Do In Costa Maya
Cruises - Nancy Schretter, Editor

The Mexican port of Costa Maya is included on many Western Caribbean cruise itineraries. There's much to see and do in this area, with experiences for all age groups and interests. If your cruise visits Costa Maya, here are seven great things to do in this port of call.




Petrified Wood & Art Gallery, Ogallala, Nebraska
Senior Travel - Hazel M. Freeman, Editor

If in western Nebraska, don't miss The Petrified Wood & Art Gallery in Ogallala. Twin brothers, Harvey and Howard Kenfield, have dedicated decades to collecting Indian artifacts, gemstones, fossils, and petrified wood. They create beautiful art from petrified wood and gemstones.




God's Silent Commentary
Christian Living - Lynne Chapman, Editor

Psalm 19 tells of God's glory declared in resounding silence.




Sarasota County's Legacy Trail
Florida - Georgiana Kurtz, Editor

Walk, bike, or skate along Sarasota County's Legacy Trail, an asphalt-paved rail trail that runs for 10.7 miles between Sarasota and Venice. Along its route you will pass through natural and historic areas.




Sabrina (1995)
Movie Mistakes - Isla Grey, Editor

The Larrabee brothers both have their eye on Sabrina when she returns from Paris. Try to find these movie mistakes in 1995's "Sabrina".


| Google+ |
E D I T O R R E C O M M E N D E D
Golf Rules Illustrated


Beginning golfers should have this book as they learn the game of golf and experienced golfers should refer often for reference. Knowing the proper etiquette with help you enjoy the game. Published by the United States Golf Association.
How to Write Descriptions of Eyes and Faces


by Val Kovalin, your BellaOnline editor for the Fiction Writing site. Learn to describe the appearance of the eyes, actions involving the eyes, and how to describe eyelids, eyebrows, and eyelashes. More than 2,000 words explaining 82 color names to assign to eyes. Facial shapes, forehead, ears, cheekbones, nose, lips, chin, and facial hair. Learn how the face shows different emotions, and more!
Heart Strings - cozy mystery


Will she be brave enough to confront the murderer for the scoop of a lifetime? A quirky cozy mystery to keep you entertained and guessing to the last page. First in the Evelynton Murder Series