Beauty & Self
Books & Music
Career
Computers
Education
Family
Food & Wine
Health & Fitness
Hobbies & Crafts
Home & Garden
Money
News & Politics
Relationships
Religion & Spirituality
Sports
Travel & Culture
TV & Movies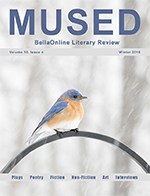 Sometimes it seems as if winter quotes make winter out to be a necessary evil which exists only for us to appreciate the subsequent warmth. Shelley: "If winter comes, can spring be far behind?" Shakespeare: "Now is the winter of our discontent made glorious summer by this sun of York." Hugo: "Laughter is the sun that drives winter from the human face."

But winter is far more than a down against which to compare the subsequent ups. Winter is a powerful, magical time. It is a season of strength. Of looking inward and finding focus. Bob Seger stated, "I write probably 80 percent of my stuff over the winter." Terri Guillemets reminds us, "The color of springtime is in the flowers; the color of winter is in the imagination." The Winter Solstice is a time to embrace the mysterious. The endless possibilities. The sense that we already have, within ourselves, boundless creativity and opportunity. We simply have to still ourselves and listen.

Winter is a powerful season. It gives us that space to look back and learn from our history. To look forward and envision what we wish to become. To be fully mindful of the present and be aware how each day has potential for us to speak out and impact the way our world proceeds. To move us toward peace, fulfillment, and an appreciation of what each of us has to offer.

Happy Winter Solstice.

Enjoy the Mused Winter Solstice 2016 Issue



Breathing Exercises
Holistic Health - Teresa Post, Editor

Breathing is something that you do every day without putting much thought into it. Breathing exercises help you focus on your breath and potentially improve it.




Interview with Author Randall Dunn
Paranormal - Deena Budd, Editor

Written interview with Randall Dunn, author of the paranormal action thriller "The Red Rider"




For Better or For Worse
Marriage - Michelle Taylor, Editor

The phrase For Better or For Worse encompasses all the pressures that can happen during the marriage, including both bad stress and good stress.




The Murdered Banker Book Review
Suspense / Thriller Books - Karen Hancock, Editor

When the body of a banker who had come to collect al debt is found in Giannetto Aurigi's apartment, his friend, Inspector De Vincenzi must find the real murderer to prove that his friend is innocent.




Prayer for Spiritual Healing
Spirituality - Debbie Grejdus, Editor

There is power in prayer and it can be a dependable source of assistance when we need it most.




Butterflies by Iris Niebach
Tatting - Georgia Seitz, Editor

Iris has just published another fantastic book. This one is devoted all to butterflies! A dozen fluttering beauties are presented in this 35 page book.


| Google+ |
E D I T O R R E C O M M E N D E D
Making and Dressing Cloth Dolls


This ebook contains patterns and step by step instruction for making 5 different cloth dolls. These are some of the most popular dolls on the Doll Making Site all together in one handy book.
Pinnacle Car Care


The Creme De La Creme of Ultimate Car Care is In the House! Using Pinnacle´s product line is like a visit to the salon and the results--magnifique!
Healing Herbs


Unknown facts revealed about herbs. Information that you should know about 80 herbs that treat common health ailments.