Digital Painting and Drawing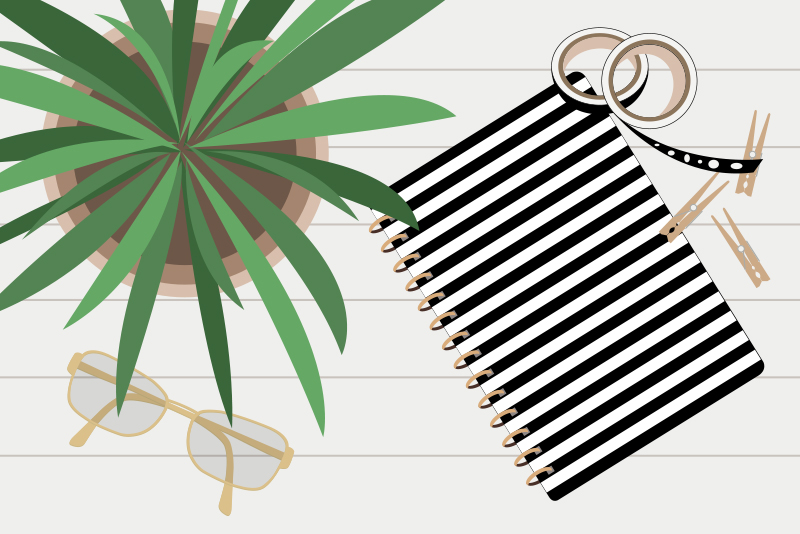 Article and tutorials about natural media software and digital painting in watercolor, acrylics, ink, pastels, pencils and more.
Color Digi Stamps with SketckBook Copic Markers

In the last tutorial, we examined the SketchBook workspace and customized the workspace, by adding the Copic Color Library and Copic Marker brushes. Now, we are ready to open our digital stamp .png file in to the canvas and color it with the digital Copic Markers.
Coloring a Digi Stamp in Rebelle with Markers

We will color a pumpkin stamp with Rebelle Markers. Many traditional crafters and card makers enjoy using Copic markers to color their stamps. We will use Rebelle's Marker and Blend tools to do the same for our digital stamp.
Finish the Watercolor Instagram Graphic

In this tutorial, we will create an Instagram social media graphic with a watercolor background that we painted in the Rebelle software.
Make Your Own Rebelle Color Set

One of the nice features in Rebelle is the ability of import your own color swatches, called a Color Set in Rebelle. In this tutorial, we will make your own Color Set file and import it in to Rebelle.
Project Tutorial - Watercolor Wash in Rebelle

In this tutorial, we will create a watercolor gradient wash that will be a background for an Instagram social media graphic. We will learn how to use the Watercolor, Blend and Water tools.
Rebelle 2 Review

Watercolor design is very popular and with Rebelle software by Escape Motions you can create realistic digital watercolors. The fluid flow of the watercolor simulation is so realistic that you will think it's the real thing and the color blending mimics traditional painting media.
Rebelle Digital Stamp Feature

In this tutorial, we will learn about how digital stamps work in Rebelle, the new realistic digital painting software. We have two options for using digital stamps in Rebelle. For both methods, the stamp .png file contains the line art on a transparent background.
Rebelle Project - Instagram Graphic

In this Rebelle 2 tutorial, we will create a graphic that we will use in a Spring Sale Instagram animation. We will use the Acrylic tool to paint the colorful background and a free stencil to add a frame and the sales text. See the link below to download the free stencil.
Rebelle Stencil Feature and Digital Watercolors

Recently Escape Solutions released an upgrade for Rebelle, their new digital painting software with realistic color diffusion and blending. In this article, I will introduce one of the best features of the software, which is the Stencil feature.
Rebelle Workspace - Start a New Artwork

This is the first in a new series of tutorials for Rebelle 2, the new paint software with realistic watercolor diffusion and color blending. In this tutorial, we will learn about Rebelle's project presets, as we start a new artwork, and view the various panels on the workspace.
Review - Autodesk SketchBook Motion App

Adding animation to your digital art is easy using Autodesk SketchBook Pro Flipbook and SketchBook Motion for the iPad. The Flipbook feature in SketchBook Pro is an easy way to create timeline based animation. But with the SketchBook Motion app you can add motion to your art using simple tools.
Review - Sketchbook Pro Timeline Animation

In another article, we discussed how easy it is to create animation in the AutoDesk's SketchBook Motion App. But that's not your only option for creating animation. You can create a simple animation, which AutoDesk calls a FlipBook, in SketchBook Pro for Desktop.
SketchBook Pro FlipBook Animation

In this tutorial, we will learn how to use the animation controls in SketchBook Pro. We will learn how to start a new FlipBook from scratch and learn about the special features of the Timeline and Layers panel.
Sketchbook Pro is Now Free

After using Sketchbook Pro, digital sketching software from Autodesk, for almost a year, several of my favorite features include the Flipbook animation, digital Copic Markers, Radial Symmetry, Predictive Stroke and unlimited brushes for just about any project, from Manga to fine art. Now it's free.
SketchBook Pro Review - The Price & Resources

I've been researching natural media painting software and Autodesk's SketchBook Pro. I've been curious about SketchBook since the addition of the Copic Color Library and Copic Brushes. What I like is the yearly subscription is $29. My favorite blog articles on the Autodesk website.
SketchBook Workspace & Copic Color Library

In this tutorial, we will start a new project and learn how to use the Copic Color Library and brushes in SketchBook Pro. We will begin by getting familiar with the SketchBook workspace and then add the Copic tools.
Using Digital Stamps & Digital Markers in Rebelle

In this project, we will create the card front for a cute pumpkin greeting card or invitation. Many crafters like to color stamps with Copic markers. So let's use Rebelle's Marker and Blend tools, which work very much like their non-digital counterparts. We will use a free .png digital stamp.
Valentine Card Project in Rebelle 2

In this Creative Motions Rebelle Valentine card project, we will use 2 free stencils, import them into Rebelle's Stencils panel and resize, rotate and position them on the canvas. We will also paint the stencil with the Watercolor tool and learn how to draw lines freehand with the Ink Pen tool.
Watercolor Card with Free Rebelle Stencil

This tutorial is for DIY card makers who create watercolor designs for their cards. We will make a simple card project using Rebelle digital watercolors. Rebelle is a new digital painting software from Escape Motions. You will really like the realistic paint diffusion and color blending in Rebelle.
What's New in Rebelle 2

In the previous article, we discussed the new brush engine in the Rebelle software by Escape Motions. Now, we will take a look at some of the other new features that make this digital painting software so much like using traditional watercolor and other media.
What's New in Rebelle 2.1

What is new in the Rebelle 2.1 update from Escape Motions. This realistic digital painting software is even better.
Editor's Picks Articles
Top Ten Articles
Previous Features
Site Map
Content copyright © 2018 by . All rights reserved.
This content was written by . If you wish to use this content in any manner, you need written permission.
Contact Diane Cipollo for details.